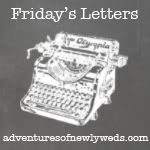 Dear work, I am totally cool with you. You make me feel like I have a purpose right now more than just changing poopy diapers and fluffing my Husby's pillow.
Knowhatimsayn'?
BUT... Puhlease chill out on Friday's from now wouldja?
For the past two of them I am literally drownding in work and finding it hard to breathe.
Monday through Thursday hit me with your best shot...
Friday... CALM.YO.SHIT.
Dear self
, QUIT beating yourself up about EVERYTHING mmmmk?
So what if you don't make your goal weight tomorrow.
So what if every inch of your house isn't perfectly clean.
That isn't the shit that matters.
What DOES matter is you have a Husby and kids that idolize the hell out of you and friends that would rather be with you than some of their own families =)
LIFE.IS.GOOD.
Life is also far too short so GET THE HELL OVER IT!
Dear Jake
, I may just have to admit myself into Betty Ford if you wake me up not one, not two, BUT THREE MOTHER BLEEPING TIMES during the night.
...I would let it go if you actually went outside to take a leak.
BUT NO... You just want to go outside, smell some grass, and come back in prancing around like nothing eva happened.
Dude you gotta wake up call.
I love you to pieces but we may have to make other nighttime arrangements if you can't just sleep.
Truth city... When you wake up more than Miss P... YOU HAVE A PROBLEM.
Fix it.
Dear Husby
, when I pass out from cold medicines because I am getting the icks 1. It doesn't mean I don't want you and 2. It doesn't give you the right to wake me up at 3AM before you leave for work to tell me Jake must have tried to get me up... I wouldn't get up... Therefor he left me a big pile of shit to clean up in the living room.
He literally had to step over it to get out the door.
Sersly?
Dear Money Tree
, Grow soon so I can buy new clothes. Losing weight is expensive!
Dear Michy Ultra
, I know, I have missed you, too! No need to make me develop some sort of weird irritating cough. You will be finding your way to my throat VERY soon!
PS WINNER WINNER CHICKEN DINNER FOR THE MICHE & MORE GIVEAWAY!!!!
KAREN
you go girl!!!!
I will be emailing you soon ;)
Thanks to everyone who entered and I hope ya'll have an amazing weekend!!!!
a Rafflecopter giveaway