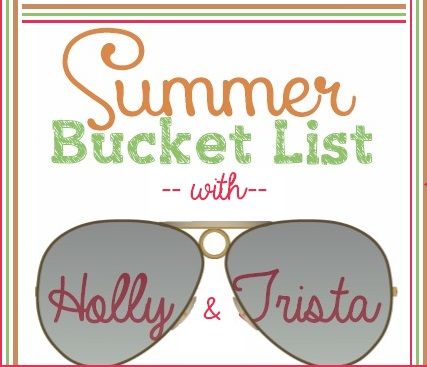 How could I resist linking up with these two fine asses?
We all know my love for
Holly
duh!
Honestly this was hard.
Hard for the sheer simple fact that I have never even thought about writing a bucket list.
Like ever.
I know a lot of bloggers that do it I just never have.
Welp there is a first time for everything y'all!!!
I kind of stole the idea from Holly and Trista and made my list into a pretty little picture.
Nothing too crazy.
Mostly I just want to have a happy and fun summer with a lot of laughter and some beer thrown in on the side.
I want to spend lots of time with family and cherish this time with my girls.
They are growing up far too fast for my liking!
Oh and be super annoyingly healthy.

PS If you were here yesterday I want it to be known that I have already dropped two of those 6 pounds.
HALLEFRACKNLUYAAAAAAAA!!!