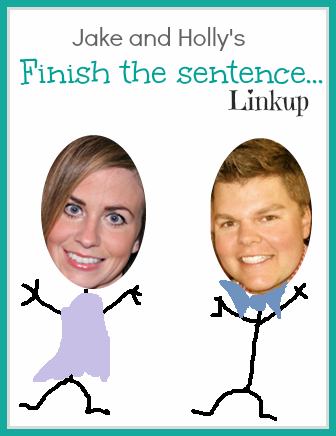 I am doing this link-up because even though you can't see me I am sammiched in between these two...
Basically.
I mean I am not sure if they know it yet.
But I am there.

Unlike my sibling(s) (that I love very much)....
I am the golden child.
The one who is always on the straight and narrow, follows the rules, and never gets into trouble.
I still say that like I am living at home but you know what I mean.
They are boys...
Nuff said.
My best friend says...
Things that make me laugh so hard I want to pee my pants.
...and sometimes I do.
People call me...
I most often dream...
That I can eat whatever I want and it will make me look like a Victoria Secret model rather than a frump that I am feeling like I look today.
The best part of my day...
Is when I get all my kids out of my car and it's just me and the road.
Come talk to me after you have done it for just one morning.
Trying to drag the six year old of the bed, all while the 8 year old is bitching at me because she hates the pants I picked out for her, and the youngest is crying because I won't hold her all while I am trying to get myself ready...
Oh and take care of the dog.
And stare at my messy house.
Mama needs a break.
I really don't understand...
All the negativity lately.
It has really taken a toll on me emotionally even though I am trying my hardest not to let it.
Just trying to be better than bullshit...
=)
I get really annoyed...
When people take the last of something out of the file cabinet at work and don't replace it.
TELL SOMEBODY IF YOU USE THE LAST OF SOMETHING IS IT REALLY THAT HARD?
Oh...
People that make excuses for themselves constantly, too.
Not gonna fly with me.
There's nothing like a...
A child's laugh...
Lately, I can't get enough...
Sleep.
One thing I am NOT is...
A mean girl.
Or a
troll
as HJ so lovingly put it yesterday.
The only thing you will find around here is the truth, motivation, and some inspiration.
HOLLA AT YO' GURL.
I spent too much money on...
Cleaning supplies.
Don't hate.
I want to learn....
To tell the future so I can pick the winning lottery numbers and never have to work again.
If I ever met my blog ladies (which I am in a little over a month), I am going to...
FREAK THE FUCK OUT.
Dance.
Sing.
Laugh.
FREAK THE FUCK OUT.
I can't stop...
Obsessing over shit that doesn't matter.
Like ignorant people that I cannot control and the house being a mess.
Never have I ever...
Ate craw fish.
And I won't either.
Or oysters.
I will not either anything staring at me or anything that has the same consistency as snot.
I'm good.

Reese Witherspoon...
Needs to color her weave back to blonde.