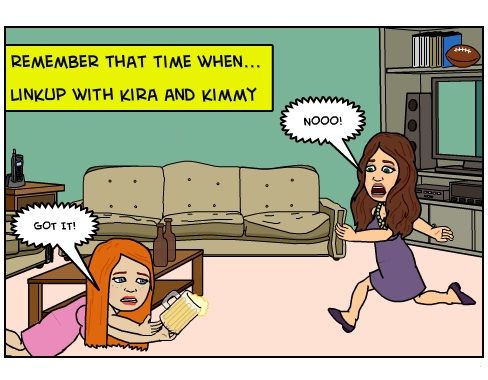 Seriously.
I love these two bitches.
...oh and what better way to confess some shit that's been on my mind for the last 12 hours or so.
When I had to weigh myself for a Biggest Loser competition that I started yesterday (May 1st) and literally sobbed for the next hour because I realized I gained 15, YES 15, pounds in two months.
1. Working out isn't going to get you ANYWHERE when you aren't eating the things you should be eating.
2. My house isn't messy but stay out of my makeshift walk-in closet/laundry room...
3. THO anyone?
4. Oh my feet aren't dirty that's just the end result of another self tanner that doesn't actually work and makes me look dirty.
5. I have Flinstone feet don't hate.
Remember that time that I got this email and it gave me a pep in my step and continues to remind me that handwork pays off...
Just wanted to tell you I was re-inspired by your weight loss posts! Especially post-baby belly ones! It's nice to know I'm not the only one with those issues! Now if I could just find a way to shrink my skin back lol! So far down I'm 22lbs!! Woohoo! You look great and I know you are really helping a lot of people! Keep it up girl! And thanks!!!
I will continue on this journey.
I feel stronger today than I did yesterday.
Remember that time that I was too busy to write anything else.
Ya that's now.
Hope y'all have a wonderful day!!!
Here is to hoping I can keep my hand out of the snack drawer and keep a fire under my ass =)