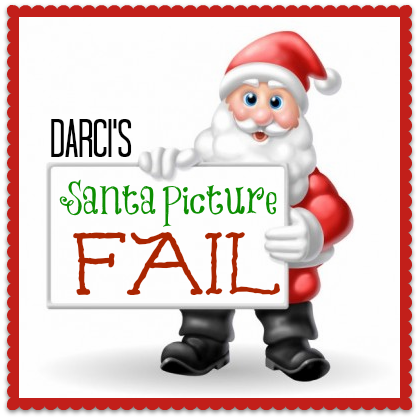 Linking up with the adorable and funnay
Darci
today for Darci's Santa Picture FAIL.
Okay so honestly I don't have any bad pictures of me, my Husband, or my kids with Santa that are bad so I figured I would swing this post in a different direction.
But I promise to still play by the rules.
They are picture
absolutefuckingtrainwrecks
FAILS in my book.
Total train derailment here people.
You see I have this thing called The Christmas Weight~Ghost.
He comes and haunts me during the dates of 10/31 and 1/2 of every year and into the new year...
He is a bitch.
Seriously.
A good 20+ pound bitch.
AND NO I AIN'T KIDDING SO DON'T GIVE ME THE SIDE EYE AND THE PSHHHHHH.
I heard you.
Anyways...
Moving along.
I refuse to let this bitch get me this time...
But I figured I would share with you the absolute most horrendous pictures of myself from the past couple of years.
Holidays=Fatty time for me.
So Christmas of 09' & 10' were the curse of the "double chin."
DUN DUN DUNNNNNNNNNNNNNNNNN
Christmas 2009
Christmas 2010
And well if I am being honest I cut the bottom half of this picture out on purpose but leave it to me and the Husby to take severely inappropriate pictures, in front of all our family including Grandma nearly sending her into a stroke-like state, on Christmas Day.
I was pregnant last year so I feel like I should get a pass but once again I was STILL huge.
And this year, well you can't really see me that well, but let's just say I am lighter than I have been in a really long time and lookin' betta than eva' in our best Christmas card to date.
Thanks Kristen from
Little Laws Prints
for hookin' a sistah up per usual!
I mean honestly did you really expect anything less?
Perfection in my eyes.
Leave it to KLaw to pimp the shit out of something.
Oh and if you
read my previous post
I found a picture of me with my hair cut where Ronald McDonald thought I was a boy and not a girl...
Painful memories people.
Painful fraggn' memories.
I really want to bitch out my parents for this but none the less my lesson was learned.
I brush my hair straight Marsha Brady style these days...
MARSHA.MARSHA.MARSHA.