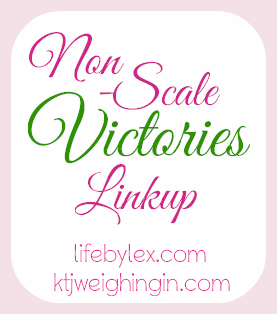 Throwing a little Non-Scale Victories atcha' today!
I can't believe this but it's my first time linking up.
I need to do this more often.
A lot of times, along with many of you, I get so fixated with the numbers staring back at me on the scale.
It's not always about that dang number and I need to recognize that more and be proud of what I am accomplishing...
Numbers or not.
Tomorrow is my official weigh-in day with my girl Sarah so I am not sure of my results for this first week since I have changed my nutrition up a little bit BUT...
I did weigh-in Sunday just to test the waters on what I had been doing.
FIRST OFF...
I managed to clean eat all weekend.
Friday and Saturday.
Which hasn't happened in such a long time!
As of Sunday morning I had lost two pounds.
Do you know how long it has been since I lost on a weekend?!
I did eat like a bit of a piggy on Sunday but I was right back on schedule Monday morning.
The old me would have thrown in the towel and binged for days.
Not anymore...
So, so far we have 1. I ate clean 97% of the entire weekend. 2. Lost weight over the weekend. and 3. I tracked and logged everything via
My Fitness Pal
and finished my days.
All three haven't happened in a VERY LONG time.
Something also went down last night that has NEVER taken place.
Like ever.
I used to always be THAT girl that would watch these weight loss shows and binge on junk food and then feel so bad about myself afterwards.
I was so inspired by these people, knew where they had been, but could never help myself.
Last night as I sat there catching up on my DVR watching the newest Extreme Weight Loss episode with Chris Powell I looked down and realized something...
I was snacking on a healthy portion of watermelon.
I had not binged that day.
I was under my calories.
I was not THAT girl anymore.
I was a new me.
A healthier me.
I cried a little harder...
I even managed to pick up a pizza for my Husband last night and managed to fight the urge to eat a piece by treating myself to a 60 calorie sugar free vanilla iced coffee from Mc Donald's.
Normally the old me would have scarfed a piece or ten...
Mind you I had already had dinner for the night!
The new me is learning to treat myself in healthier ways but not deprive myself completely.
Will I have pizza again?
Absolutely.
But I now know my limits and I know that I am stronger and way more important than any craving!
L: October 2012 and about 200 pounds(ish)
R: 7-20-13 174 pounds
I never ever act like this is easy.
It's not.
It's one of the hardest things I have ever done and will continue to do for the rest of my life.
I was not blessed with a tiny frame and great metabolism.
I have to work hard for EVERY.SINGLE.POUND. I lose.
But...
That just makes it that much better.
It makes me that much more proud.
I know that this will be an every day thing for the rest of my life but I am realizing it's worth it.
That I am worth it.
And so are you!!!