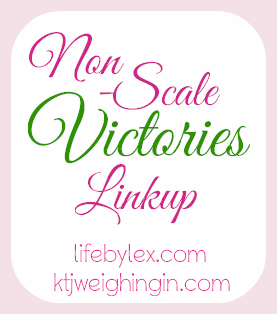 We all know far too well how easy it is to get fixated on that damn number on the scale.
On days it's good it's like a ray of sunshine.
On days that it's bad it's like your being struck by lightening.
I know damn good and well I have had amazing weeks and did EVERYTHING right and no budge whatsoever.
That's my life.
I am learning that as hard as it is to let it go.
I do weigh almost every day still.
But I am not letting it get me down.
I just know that if I am the same or up that I need to maybe work a little harder or reflect on what I had done the previous day or two.
It keeps me in check.
But that's just me.
I am all for these Non-Scale Victories though.
They are super important because they keep our moral up.
~I didn't gain any weight over this past weekend.
Huge for me.
For the last several months I have always put back on at least a pound.
I may not have been great what my food choices but I have come a LONG way in the past couple of weeks.
~I have stuck to my workout schedule working out at least 5 days a week if not more and burning at least 300 calories plus.
~I worked out even when I was sick.
Never would I have ever pushed myself to work out when I wasn't feeling well.
Old me would have slacked off and for sure fell out of my routine.
Not me.
I kept going and do you know what?
I actually think it helped get me better quicker.
~Sweat it out~
I consider this a HUGE DEAL!!!!
Anyways...
Can't wait to see everybody else's Non-Scale Victories this week!
Let's keep chuggn' ladies!!!
PS Is this not so true???
I definitely want to empower!