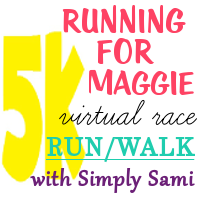 When I found out about the virtual run
Sami
was hosting I just knew I had to be a part of it.
Sami lost her sister Maggie in the Spring of 2012 around the same time that we lost a good friend of ours in a tragic motorcycle accident.
It really hit close to home for me.
Running has always been a struggle for me.
I do love it.
I sort of hate it and wonder why I am doing it during.
Especially when it gets hard.
Old me used to give up when things got hard.
Now it just makes me push myself even harder than I ever have before.
I love it the most though when I am done =)
The sense of accomplishment that comes after you have pushed yourself so hard is nothing I have ever felt before.
I feel AMAZING.
Of course me "Procrastination Polly" waits until the last minute to complete this.
Yesterday, hungover, and in 90 degree humidity.
Awesome, Marcy, real awesome.
Somehow, by the grace of little bebe Jesus, Maggie, and B I was pushed to not only finish the 5k, but set a personal record for myself as well.
I was really getting down on myself around the 2.5 mile mark because I did have to stop and walk for a bit.
A voice in my head just kept telling me to keep going.
Even if I was walking I was not giving up and I was going to finish.
Finish is exactly what I did.
35:13
I was shocked y'all.
I also managed to run my fastest mile as well.
I am so thankful that I participated in this run.
It was far more emotional than I realized it was going to be but it was so worth it.
I got so much out of it.
Thanks Sami for doing this and I look forward to doing it again next year if you decide to!!!