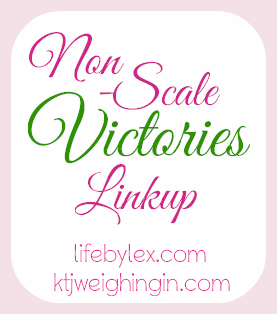 Well I went from posting every.single.day. to being lucky to get a few words out here and there.
Life has been crazy to say the least.
My oldest two started back to school yesterday.
I am still finding it hard to believe that I have a 4th and 2nd grader!
My youngest angel baby has been pretty sick the past couple of days.
Between cleaning up poop explosions, wiping away crocodile tears, and mommy snuggles I haven't had much time for anything else.
Thinking she was getting some coffee was the only thing that kept her from losing her shit yesterday.
Not even kidding a little bit.
I did manage however to find time yesterday when I was off to work out.
Old me would have NEVER done that.
I would have found something to clean or I would have plopped my ass down in front of the television to catch up on DVR.
Old me would have never thought to actually get up and move enough to break a sweat or stick to my calories.
I did both and I am definitely considering this my Non-Scale Victory this week!
Oh and the fact that I passed this up that my Husband bought at the grocery store last night...
No, I did not even have one morsel...
Making time for myself has not always come easy.
I am a full-time working Mom after all.
I was always quick to make excuses.
Excuses I will make no more...
The picture on the left was a sad sad girl.
She didn't smile, she covered her face often, she made excuse after excuse after excuse.
She was scared, bitter, and just all around not a good person to be around.
The picture on the Left was from October.
The picture on the right is from today.
The picture on the right displays a woman and not a girl.
It portrays the utmost confidence (yes, I still have my bad days but this is just overall) and a smile that isn't fake.
She is truly happy for the first time in so long.
She still has areas of improvement but is proud in knowing just how far she has come over this last year.