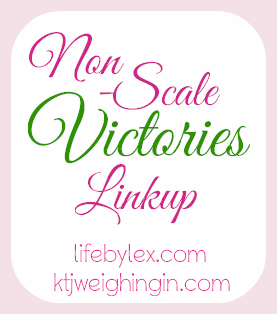 I haven't stepped on the scale this week.
Like at all.
Typically this is unheard of but I am really trying to stay off of it except for Friday's.
It is just effecting my mood entirely too much as of late and I am trying to be as obsessed with the numbers on the scale.
It's not all about the scale people!
The two Non-Scale Victories I want to share this week may seem silly to some but to be it is a HUGE sign that I am doing things up in hurrrrr...
Mom girl who is 5'1 on a good day and all of about 130/140 pounds if that.
She has been tiny for forever and I always have dreamed to be her size.
To have her tiny legs, etc. etc.
You catch my drift.
I think she is gorgeous.
I just wanted legs like her I won't lie about it.
They are tiny.
I have always had tree trunks for legs.
Sister left a similar pair of pants like the one she is pictured in above at my house.
I was like oh 8/10 these will NEVER fit me but what they hell I am going to just see what happens.
One leg in, then the other, and up they went.
They didn't stop at my hips they just kept going.
I was able to wear them, and wear them comfortably!
What?
I still don't feel anywhere near as tiny as my Mom but for me this was a pretty big deal.
EXHIBIT B
Boom.
Hey Mom if you are reading this you might not want to leave any more pants at my house because you might never get them back =)
The other thing is this past week I ran a straight 3.45 miles.
What?
Me?
The girl who couldn't even run .25 miles in March for fear I might croak right then and there on the deathmill.
PS if you missed it this run totally has a story behind it...
OH MY FREAKING GOSSSSSSHHHHHHHHHHHHHHHHHHHHHHHHHHH

NOT THAT YOU CARE BUT HOLY HELL I HAD THE BEST RUN EVER AT LUNCH TODAY!

I always go down and around Paul Brown stadium... I never see anything down there but whatever you know I am a HUG

...
E freaking fan.

So I am approaching the intersection where the stadium and practice fields connect to each other and I see players crossing the street. Oh EM gee.

Then I look to my left and Marvin Lewis is approaching my direction to cross the street and SMILING AT ME. I waved and said WHO DEY!

Then I was going to stop and take a picture but Reggie Nelson #20 shouted RUN GIRL, RUN! And I did. I ran 3.4faaaking5 miles. Gah!

I should have asked if they would have signed my boob or something cool like that...
PS IF YOU GO

HERE

AND ORDER SOMETHING I WILL 1. LOVE YOU FOREVER 2. GIVE YOU FREE AD SPACE ON MY BLOG FOR A MONTH AND 3. WHOMEVER ORDERS THE MOST PRODUCT WILL WIN SOMETHING AMAZEBALLZ FROM ME!!!
{PSS if you do order something make sure you look my name up Marcy Burris and put me in as the host so that it goes towards credit for my party! Kim is just starting her business and is AWESOMESAUCE}