Linking up with my "soon to be" IRL frannnndddd and fellow MILF
Holly
for "What's in yo' fridge?!"
Lezbehonest...
Friday's are so random.
I get to Friday and I am like WTF am I going to make these bitches piss their pants over?
So what better way to do that then show you a picture of my fridge?
I know...
Throw on those depends and hang on!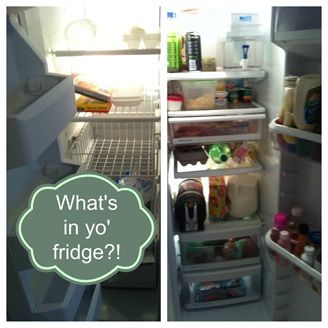 So what's in muh fridge?
Ya I see you judging me behind your computer Mama Elsa style...
I was really nervous when we moved into the new house because of this fridge.
I actually remember telling Kevin that we would probably look like some fo' real po' folks because we would have a lot of empty space.
Good thing beer can fill up a whole shelf...
It's a space filler until the weekend hits!
We basically like beer, soy sauce, Hellavu Good Dip, Pickles, and a shit ton of other condiments.
With some chicken, processed freezer randoms, eggs, and buttahhhhhhhh thrown in the mix.
And I am not real sure what else you want me to say.
That's my fridge.
The end.
OH...
but don't forget to go
HERE
and sign up to win yo' self a new panty drawer!
Ok not like an actual drawer full of panties...
But the GC to get you some new "hole-less" cooter huggers thanks to my amazeballz sponsor ladiez.
And one more thing.
Promise this really IS the last...
I just put my big girl panties on and finally committed to a year's membership at the gym in our building.
Oh ya know just the gym that me and my work bestie Michelle had wanted to join like iono two years prior...
Granted we get the first month free with no obligations but how fucking retarted is it for me not to use it.
Not to mention I can do it on my lunch AND they have showers so I don't stink after sweating like a whore in church while I am "MURDERING MY FAT"!!!
Finally getting my ass marathon ready...
Good gawd Holly better be ready to maybe possibly carry me the last leetle bit of the race.
LEZ WORK IT GIRLZ....