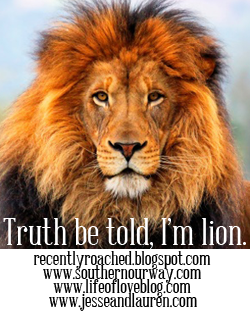 I am just going to get real honest with you for a second...
Jillian whipped my ass up one side and down the other.
I believe there is an actual indent in the carpet where I laid for a good ten minutes after I finished Day 1 of her 30daystohell 30 Day Shred.
Kidding.
Sort of.
Anyways...
Since my mind is barely moving today let alone my body.
Ya, so my fingers even hurt.
Linking up with Miss Sarah today for
Truth be told, I'm Lion.
Basically I am going to spit two truths and one lie and it is your job to figure out which one I am fibbing about!
1.

My parents cut my hair super short in second grade (like my hair was past my ass and they cut it like a boy) because I refused to brush it.
Which resulted in the entire school laughing and pointing at me when Ronald McDonald called on me for help during an assembling yelling, "Hey you! Boy in the black shirt."
2.

I eat sardines on a regular basis. My Dad would eat them with mustard when I was little and I kinda just picked up the habit from him.
Everybody thinks I am disgusting but don't knock it til' you try it!
3. I had never once had an orgasm during sex until I met my now Husband.
He doesn't believe me but it is the truth!
So...
Which one is a lie?
Think you know me????
In other news I am already trying to talk myself out of my lunch time work out but don't worry my ass will be sweating like a whore in church right around 12:45PM...
And cursing...
There will be a shit ton of cursing...
Also make sure to go HERE and enter my Giveaway if you haven't done so already!
And PS...
Who the fuck else thinks that this show and these people are fucking cray to the zay?!
Poor pussy...