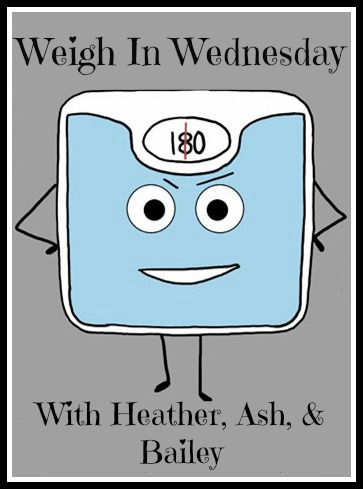 Phew!
Hump day already?
Kinda hard to believe time is just movin' and groovin' right along!
SLOW DOWN WOUDJA COULDJA?!
So I have decided for today I would not share my weight.
Well for the main reason that I didn't weigh in.
I told you all a couple of weeks ago that I plan on being in the 150's by my doctor's appointment on November 21st.
I do have a specific number in my head but if the scale starts with the first two numbers being a 1 and a 5 I will be happy.
You know how doctor's scales are anyways...
Bastards.
I just decided I am going to eat clean and workout and leave the rest in God's hands.
I am not going to weigh myself until November 21st.
Yes, that is right.
I have even contemplated giving the scale to my Gran that lives next door just so I won't be tempted.
I even kind of want her to hide it from me.
It is definitely like an addiction for me personally...
Every time I see it I want to step on it.
I know some of it is about the number.
But COMEONNNNNNNNNNNNN already it is A LOT of how you feel.
Today...
Today I feel, dare I say it, FUCKING AMAZING.
Maybe I am still high off that workout I had yesterday?
IONO.
Maybe it's the fact that a co-worker made a comment on how "skinny" I am looking lately?
IONO.
Or the fact that my Hubs can't keep his hands off of me?
IONO.
Regardless I just feel damn good.
Moving right along...
I wanted to share my White Chicken Chili Recipe with those of you who had asked for it!
I got the original recipe from my girl Nat which you can find
here.
I did end up adding some extra things like Tastefully Simples Garlic Garlic and Seasoning Salt to spruce it up a bit!
When I ate it yesterday I added just a touch of sour cream.
Let me just say it DID NOT disappoint.
Hey and it's healthy!
In other news I wanted to touch on something I am feeling this morning.
Exhibit A
This is me upon arrival to work this morning.
I was lucky enough to wash my ass this morning let alone actually fix my hair.
This morning really had me questioning myself as a Mother.
Am I cut out for this?
Am I a good Mom?
Gosh, I feel like a horrible Mom!
God trusted me with these three beautiful girls what the hell am I doing?!
Why can't they be perfect little angels and why can't I be 5'3, 110 pounds, and have the house smelling like fresh baked apple pie 24/7?!
I just wish sometimes my Husband could be a fly on the wall.
It is so hard on me to get these three girls ready, myself including, and out the door at a reasonable time.
That's even with me waking up on time.
It's like pulling teeth to get Shelby to listen to anything in the mornings.
Dragging her out of bed is like World War 3.
All while Payton is into the liquor cabinet again and Lauren's in la la land watching the latest episode of Duck Dynasty.
Then the fights...
Oh lawdy the fights.
I was literally hoarse when we left the house this morning from screaming.
I HATE TO YELL.
Hate it.
Sometimes though I lose it and I just don't know what else to do.
Please tell me I am not the only one who goes through this or feels like this?
Please tell me that I am not the only Mama who is one tantrum away from losing myself in a box of Franzia?
This Mama obviously needs a break.
Tomorrow I will be back with some new goals for myself!
XOXO